Horror The Baby in Yellow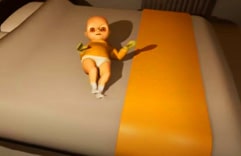 Views:
Horror The Baby in Yellow
About Game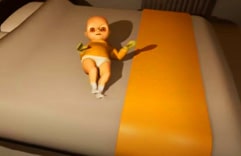 As a professional babysitter you met various children during performing your work. The naughty kids who refuse to do their homework, cute children who like to play and always smile, and other different clients were in your work list. And you were doing your job perfectly, before this day came. The average parents asked you to babysit their boy and went on a business trip. And you suspected something, when you first saw his huge red devil's eyes, but it was late to turn down.
Horror for true fans
The amount of screamers, thrilling moments and strange events in The Baby in Yellow is huge, so if you like that, press the start button right now. The game process is simple. You start from completing the simple tasks from the list in the corner of your screen. Watch the child's condition and the list to understand the right order. First, feed him with milk from the fridge. Then, he needs a fresh bath, so go to the bathroom and change diapers.
Entertain him, so he doesn't cry. Put him in bed when he is tired. After the whole day of performing your duties you can walk in the house, look closer to the interior of the rooms, relax on the sofa and watch TV. These are your last tasks, so the new scary day comes. And we don't think you can survive all the events.
Continue the game no matter what
Your aim is to reach the ending and stay alive. And it seems simple, before the kid starts acting strange. He teleports to the different rooms, chases you, unexpectedly appears to scare you, and you can see his frightening eyes everywhere. You will fall into his traps, get lost in the small house because the rooms changed, but you still need to complete your important tasks. This kid starts to look like a terrifying monster with weird black roots and evil face.
You need to escape the building, but that's not simple because this boy controls everything. Your attitude and other factors have a huge influence on the ending you get, so you can receive the good final or one of the bad ones. But we don't claim that you will like the good ending. Just don't treat him harshly for your own sake. Remember, you are the uninvited guest in this cursed house.
Get free access to this exciting product on this site. Go and test your nerves here to feel the real nightmare. Maybe, the job of a babysitter isn't the best for you?